Golden Garage Door Repair Service - Emergency Services Rochelle Park, NJ -

201-491-5896
There are many ways that your garage door can become jammed, or can jump its track, and any of these can instantly prevent access at your home or business to important vehicles, tools, and other equipment that you need. A garage door which is not working correctly can also be a security risk, since literally anyone can walk right in and threaten your valuables.
The cause for a malfunctioning garage door can be something as mundane as many years of wear and tear, or it could be something like a sudden impact that jars the system into immobility. Whatever the cause, Golden Garage Door Repair Service makes a point of addressing the situation as quickly as possible, so that any garage door emergencies you may have in Rochelle Park can be resolved promptly and effectively, 24 hours a day, 7 days a week, 365 days a year.
Each of our technicians is well trained to handle any kind of garage door name brands or types currently on the market, and they will make sure that you are kept informed about the progress of any service work. If you should need repairs to your garage door opener system, our Golden Garage Door Repair Service technicians can handle that as well, since we are full-service providers.
Garage Door Access Issues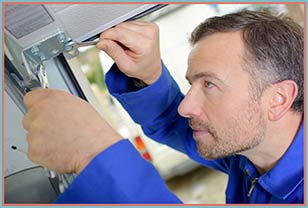 Little issues can sometimes cause big problems, and that's often the case with lock and key issues for your garage door system. A simple thing like a lost key or broken lock can deny access to your family or your business personnel, so that your normal daily operations are either delayed or prevented entirely. When your family or business has these kind of access issues, make sure to call Golden Garage Door Repair Service so that we can bring to bear our experience and our equipment to get you back up and running at the earliest possible time. Within an hour of your call, one of our technicians can be at your site with a mobile service unit, fully equipped and ready to handle whatever issue you may be experiencing.
On Demand Repairs with Golden Garage Door Repair Service
If you allow Golden Garage Door Repair Service to handle all your emergency garage door repairs, you can rest assured that you will be receiving the most competent and capable set of services available anywhere. Our mobile service vans are constantly riding through the neighborhood, ready to provide quick service to our clients. You can have peace of mind when you arrange for Golden Garage Door Repair Service service, because our technicians will not only handle every garage door service problem you have, but they can also work with you to prevent any mishaps in the future. We use only the highest quality components in our repair work, and that allows us to stand behind our Golden Garage Door Repair Service work 100%, so if you have any emergency garage door repair issues, make sure to call us before anyone else in Rochelle Park.